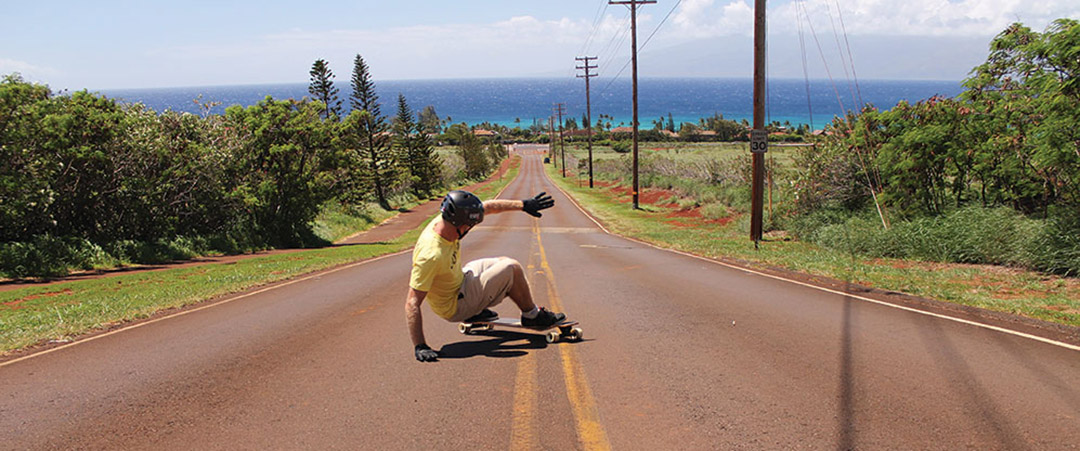 Longboarding on Hawaii
If you think about Hawaii, beaches, turquoise lagoons and big waves come to mind. Hawaii is synonymous to ocean sports and the birthplace of most board sports know to man, like surfing, kiteboarding, windsurfing and Stand Up Paddling. The people of Hawaii live and love the lifestyle surrounding ocean activities.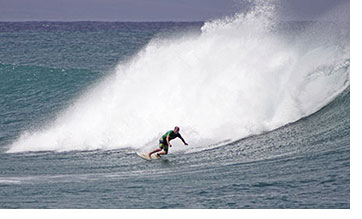 Surfing is at the core for all boardsports, and athletes of all boardsports are aware of this. For people less familiar with the subject, I may recommend to watch Stacey Peraltas' documentary, "Dogtown & Z-Boys", this documentary illustrates in a great way how a bunch of surfing kids wanted to bring their beloved sport to the street, so they won't go crazy on "waveless" days. Anyway, if you think about Hawaii, skateboarding is definitely not the first thing that comes to mind.
Why even bother to go skateboarding when you live in a place where you can glide across the ocean pretty much 365 days a year? Exactly that's why! Lesser known than its beaches are Hawaii's tall mountains, but after all that is all Hawaii is: A mountain range that is reaching above the surface of the ocean.
The Valley Isle
Maui is also called "The Valley Isle" and evidently; if there are valleys, there has to be mountains…right? Many people are not aware of the fact that Maui has a 3052m (10,0013 feet) tall mountain named, Haleakala. Haleakala may be host to one of the most beautiful roads for a downhill bomb from the thin air at summit, all the way to the beach. The views from up there are breathtaking, and give you a sense of what it means to be in the middle of the pacific. This road is also home to a small, but hard-core group, of longboarders that call the slopes of Haleakala their home. A recent published video called "The Mountain" showcases some of the best local talent and the beauty of this decent. The local scene of longboarders is growing, and so is the talent. The island is very rural and widespread, so some of the hot spots of Maui's longboarding scene are far apart and not always easy to find.
Maui live
I was lucky enough to settle on Maui over 12 years ago after a long journey around the world on a hunt for perfect waves. As a "child of the mountains" myself, I escaped my skateboarding and snowboarding life in Switzerland, in search for a new frontier: Surfing. I grew up in the town of Zürich, which was the epicenter of Switzerland's skateboard and snowboard boom. After years of an active life in skateboarding and snowboarding, my urge for surfing grew and grew. I still remember the first longboards coming to Zürich in the early1990's, brought by skater's that traveled to the US and brought them back home. We longboarded the streets of Zürich during the night when there was less traffic and after a summer of longboarding, I knew I could not stay for another winter, as surf trip as imperative.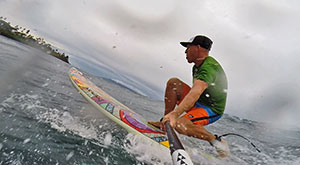 After 5 years of chasing after the perfect wave in numerous countries around the globe I found a new home here in the islands of Hawaii. Needless to say that as a native to a country with severe weather escapades, Maui is paradise. Not only was I able to travel for years, I was also able to settle in a place where, weeks of rain and fog are a thing of the unknown. Long forgotten was my past as a skater and snowboarder. I arrived in my own little "surf-nirvana". I surfed everyday I could find a wave and could care less about skateboarding or snowboarding. -- Nevertheless, I found it very unfortunate that there was no skatepark or anywhere to go on flat days. The skateshop in my new town was tiny, there was no skatepark nearby and the roads were sub-par compared to home. Who is skateboarding here with such an infrastructure anyways, I was thinking to myself, but somehow I also could careless. Now I was engulfed in ocean sports.
After a few years my wife bought me a longboard for my birthday and I started to cruise and carve around the resort where she was working. I had tons of fun but frankly without anyone to share the stoke with, I stopped going out on my own and given the road infrastructure, commuting to and from work on my longboard was out of question.
Times have changed
A few years later a great opportunity came into my life, I was offered to start a company with my travel friend I have met in my days in Central America. We had the opportunity to create skateboards longboards and we put our heart and soul into this project. We designed some cruiser boards inspired by my new live as a surfer at first and quickly added freerider boards to our line after our initial success. After a few test rides and skate sessions, it was like my skateboarding days were back and alive. I met some other skateboarders on my search for a perfect road to test new boards. Due to the construction boom that abruptly ended in 2008 I found some very nice empty streets to test boards and reconnect with my inner skateboard child through longboarding.

If felt that "my surfing paradise" reveled a complete new side. Not only did I find more and more great roads, but also all of a sudden there were people in my neighborhood that had the same passion for longboarding like me. We were all looking for a boardsport during the flat summer month, so we started exploring the island for "skatespots" and met more kids with incredible talent mobbing the streets of their town at incredible speed.
Thanks to my rediscovery of longboarding I was able to reconnect with my roots as a skateboarder and improve my surfing skills at the same time.
Enjoy Your ride!