Who is Jucker?
How a dream became reality...

I have never taken for granted that I live in Hawaii, already as a teenager I dreamed about living in a tropical place. I feel very privileged and lucky that my dream came true, especially since I am not coming from the US mainland but a small country in the middle of Europe.
Board-sports have always been my passion, I was a die-hard skateboarder right from the beginning, and was part of the "snowboard movement" in the 80's and 90's in Switzerland. I practically lived and breathed skateboarding and snowboarding, but there was always something else: The big dream of surfing and the tropical lifestyle! This dream was so strong, that I finally had to leave Switzerland in search to learn to surf and the tropical lifestyle. At the age of 22 years old, I started out on an odyssey with an open-end ticket in search for my ultimate dream.
I needed to find a place as different from Switzerland as I could imagine. So I booked a ticket to Costa Rica and signed up with a language school to learn Spanish while I was there. I still remember my first culture shock EVERYTHING WAS VERY DIFFERENT. As for surfing, I knew already on how to move on a board, but the wave factor was quite new to me. I was eager to learn and paddled out where ever I could. Unfortunately, I was never able to fully enjoy spots like Pavonnes, Dominical and Salsa Brava and I am pretty sure I was not making everybody happy in the line-up as a beginner. But times changed when I first came to the North Shore of O'ahu…
Hawaii like being in a surf magazine...

First impression of the North Shore of O'ahu - Pipeline (Winter 1997/98)
…After an unproductive time at a friends House in Florida I decided to travel to Honolulu to meet up with an old high school friend of mine. After all Hawai'i is the center of the surfing world. I bought a car believing I could just camp around the islands and surf along the way. Little did I know… after a some weeks of lonely camping in remote areas I found out about The Backpackers at Three Tables Beach near Waimea, a place that changed my life forever. I still remember vividly how I came around the corner at Waimea Bay for the first time seeing the iconic Church on the hill. This church is photographed in every surf magazine that I had admired and only dreamed about seeing.
The waves and set up here were completely different than on Costa Rica. I had to get used to the fact, very quickly, that I no longer will be surfing over sand plus the surf spots were very crowded. After seeing the movie North Shore, for about 50 times, I also knew that I have to pay the utmost respect to the locals. I often was just a spectator in the water just sitting there, not surfing one-single-wave. Most waves at the North Shore break further out and are considerably easily accessible. I found myself often out in surf where a rookie from a land locked country actually has no business being out there! A few Peruvians that was also staying at The Backpackers, took me under their wing and we drove across the island in search for waves. Most of the time the waves were overhead and my shortest board I had was a 7'2". With some help from my new friends and my dedication, I surfed my first "big" waves beyond head-high. After two month, I started to get used to the larger surf and concluded that with the right board I could conquer any kind of wave. Unfortunately, my tourist visa allowed me only 3 month in the country, despite my attachment to my new friends and the Hawaiian paradise, I had to leave the country…
Indonesia, a dream and Disneyland for surfers!

Once again, I experienced a minor culture shock as I arrived in Bali. The language was far from anything that even remotely sounded familiar. My Peruvian friends in The Backpackers had been to Indonesia before and were able to give me some good advice: learn the language. I had a small phrasebook and made sure I would remember 5 words a day. Getting to know the language turned out to be the best thing I could do and helped me tremendously in the coming 6 month. I was lucky to hook up with some Aussies who knew Indo like inside and out, and they took me along to Lakai Beach, better know as Lakey Peak. My board length now shrunk to 6'6" as the big guns from Hawaii would not even fit in the waves there. We spent 6 weeks in Lakey and I was able to use all my knowledge from the North Shore and progress in my surfing.
Nowhere else I had the opportunity to pull into this many barrels as in Indo. Over the coming month I had the opportunity to surf some true secret spots. I traveled on a ferry from Bali to Timor and was lucky enough to stay at a place on Sumba that would become an exclusive surf resort some years later. We surfed Occys Left also known as Nihiwatu for weeks with no more than 3 other guys! This for sure was the most memorable time in my life at this point. I spent the entire surf season of '98 in Indonesia, spoke almost fluent Bahasa and locked in some serious barrel time. What a dream that was! After my 2nd visa trip to Singapore, I knew I had to move on. I still had the North Shore in my heart and my initial plane ticket was a return ticket back to Honolulu.
The North Shore at heart
I decided it was the best thing to do and go back where I knew some people and I was ready to tackle more waves at the 7-Mile Miracle. Returning to The Backpackers, now the place had many of South African travelers, and only one Peruvian friend was left. I had to step up my game if I ever wanted to surf with these guys. As long as it was the reasonable thing to do, I went along with these guys and surfed!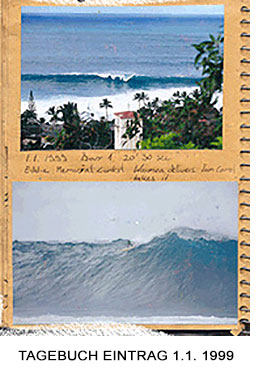 This was the winter of a life time, and bonus, I had several friends from my hometown coming out to Hawaii to visit me. After 3 months, I had to leave the country, even though I was not ready to. With my good friend Barns, who was also there at the time, we took this opportunity and went for a month to the Philippines. We traveled to all the known spots in the country, but unfortunately, we were there during the wrong time of the year. We waited for Cloud 9 to happen, but it was blown out the entire time. We did find some spots in far out remote areas that were nice to surf, places where the entire village would come to the cliffs to watch the foreigners do their thing in the water. The waves were all OK but nothing to brag about. We were happy to go back to The Backpackers on the North Shore.
It was now Spring of 1999 when I met a girl that changed my life forever. It was spring break and the testosterone overloaded surfer back packers got a visit from 4 girls coming to the North Shore from the University of Hawaii in Honolulu. The girls were looking for a party and even showed up at our cabin with beers! The South Africans and me could not believe that this just happened. After several bottles of beers and laughter it became clear who-took-who, to the beach. And the rest is history and I started to date a girl at UH Manoa. We saw each other almost every day until my tourist visa expired again and her time at the University came to an end. By this time I was now traveling for 2 years straight, my funds were running low and it was time to take a shower… in a bathroom I could call my own.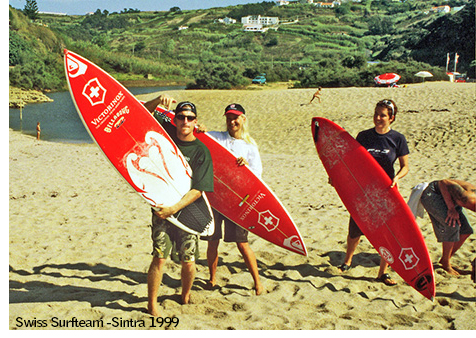 There was no way, I felt I couldn't go straight back to Switzerland from Hawaii, so I decide to transition at a friend's place Mr. Obarns in Cologne. I spent 2 Month in Germany and my girl from the US came visit me there as well, we drove back from there to Switzerland to see my family for the first time in 2 years. I had the chance for the first time to meet other "swiss surfers" when I qualified for the Swiss Surf Team to go to the EURO Surf in 1999. it was a realy cool experience to be part of an international event representing my country.
I was in desperate need to fill up my bank account again. I knew my dream was not over and I had to continue to pursue. After 5 month in Switzerland my entire family traveled to South Africa to spend the millennium with my two uncles and cousins who lived down there. Over all I spent 6 month in South Africa, the first 2 Month in Durban at my cousins house. I surfed with the Durban locals witnessing some of the sickest barrels breaking over sand. After 2 month two friends from Zürich joined me in Durban an we travelled from there south. We spent time surfing in the Transkei, East London and finally J-Bay.
J-Bay where dreams come true

Super Tubes - Jeffreys Bay - March 2000
We spent several rainy wave less weeks in J-Bay and I learned to surf small fast waves on my backhand very quick. I thought I would live my dream in J-Bay and stared to work for a local shaper, but that did not last very long. The weather was often cold and rainy and I drowned in boredom. One day I could not take it anymore and I contacted my friend in Cape Town who I met at the North Shore, I was welcome to stay with him for a while. I spent a very intense time in Cape Town. I was immediately welcomed into the circle of close friends and we spent most time looking for surf or going to parties. Cape Town was one of the coolest cities I have ever visited.
I still was not sure where my future is heading but I knew it will be with water. It became my dream to become a sailor and do a crossing of a large ocean. Lucky for me, I met two sailors who were looking for help with to sail across the Atlantic to Brazil. I was ready to stop surfing for my new dream. We prepped the boat and loaded groceries as faith took a sudden turn in the harbor of Cape Town: One of the two sailors got mugged and shot in the hip the night before our departure. We were all devastated, the sailing trip was cancelled for a long time.
Here I was again, forced to make a move that was not planned. Lucky my friend took me back into his house and a week later the sailor decided to go on a recovery trip up the coast. They took me as far as J-Bay and I found myself back on square one. It was once more time to rethink my plans, it was now Spring of 2000 almost 3 years after I left my country for the first time. What to do? I figured it would be best go back home and rethink everything while I was making money. I spent 8 month in my hometown and even Karin (my girl from Hawaii) came visit me twice during her school breaks. I knew it was not time for me yet to get settled, one more time I wanted to venture out and I definitely wanted to find a yacht to work on. My colleague from a former job told me his story of working on a yacht and put me in touch with the captain. Four days later I was on a plane to Thailand, I took a taxi to Phuket then to Naiharn Beach, where I would meet the 1st Mate of an incredible 136 ft. private sailboat.
Thailand to Italy by boat

S.Y. Silvya - Gulf of Suez - April 2001
The boat, as it turned out was not just any boat, but a classic. A 1925, built S.Y. Silvia Camper & Nicholson. It was like being on a Pirate ship or something. I had to learn a ton and was more than eager to soak all the information up given to me. The crew was very unique: The captain and the 1st mate were German and the rest were Thai people, the language barriers were huge and living on board was chaotic and often very difficult as the short tempered captain lost his marbles on many occasions. We sailed to some very remote islands in the Andaman Sea and finally crossed the Gulf of Bengal to India, where we spent a few days restocking supplies in Cochin. From there, we crossed over to the Arabian Peninsula and refueled in Salalah Port in Oman, we were there for 5 days and had the opportunity to do some sight seeing. From there we headed up the Red Sea to Egypt where we spent some time for the boat owner to come and have his vacation on his yacht. At that time, I just about had it with the living conditions on the Sylvia. The captains temper and ability to make decisions was so bad at times that he put people in harms way. I was at the brink of my breaking point. I decided to pull myself together and spend some more time on the yacht. After the boat owners vacation we were to deliver the boat to Italy for summer time. We sailed up the Gulf of Suez into some 36kts of wind with zero preparation, nearly lost a dingy, all crew seasick beyond words and me almost going overboard. It was harsh… 24 hours of pounding. I missed Karin now a ton. After a stop over in Port Said and Larnaka on Cyprus we arrived in Malta. I was able to make a long awaited phone call to my girlfriend who I really missed at the time. This phone call decided both of our destinies, Karin's mom suffered from cancer for a longtime and had passed away between our phone calls in Cyprus and Malta. The situation was clear for me, I had to be there for her. The crew on the yacht supported my decision to fly to Seattle to be with her and promised me I would not loose my spot on the boat. After my visit in Seattle, life was not the same, I really missed her now very much, but she still was not done with her University degree. So I found my self back on the Sylvia which arrived in Italy in the meanwhile, I spent 5 weeks on board the yacht in Porto St. Stephano sanding and varnishing. Half of the crew jumped ship and the captain was as miserable as always. I could not take it anymore, one morning I packed my bags and took the first train north back to Zürich. It was June of 2001.
Final destination Maui
Karin and I now had plans, we wanted to meet up after her graduation where were met 3 years ago. In December of 2001 it finally came true, I left Switzerland via Indonesia for Hawaii. In January 2002 we met in Honolulu as two of the happiest people in the universe. We went back to The Backpackers on the North Shore where it all began 3 years ago. We spent an amazing time there and decided never to let go of one another. We got married and decided to start a life. After some decision making we realized that the North Shore of Oahu is not the place were we could settle and we decided to give Maui a try.
We are both still amazed that our dream of a live together in a beautiful place like this became reality. Maui is to me a place where I feel I never have to travel again and I am on a large boat that anchored in the most beautiful place in the world. We are very grateful to live our dream.